Worskhops and Training

Diversity, cultural competence, and multicultural workshops should facilitate new levels of consciousness regarding concepts like racial, class, and gender equity. But they also must empower participants to become change agents on the ground, today. We specialize in using this approach to help individuals, organizations, and schools shift from a "celebrating diversity" approach to multiculturalism to one grounded in priciples of equity.

Diversity Climate Assessment

Our combination of assessment expertise and diversity expertise makes us uniquely equipped to design and implement your organization's or school's equity and diversity climate assessment.

Publications and Research

We bolster diversity, equity, and multicultural theory and practice in schools and communities with our cutting-edge scholarship for diversity practitioners and organizations. Our publications run the gamut from peer-reviewed academic journal articles to practitioner-focused blogs.







Check out Cultivating Social Justice Teachers: How Teacher Educators Have Helped Students Overcome Cognitive Bottlenecks and Learn Critical Social Justice Concepts (Stylus, 2012), the new book edited by Paul C. Gorski, Kristien Zenkov, Nana Osei-Kofi, and Jeff Sapp.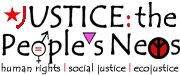 Purchase your copy of the 2012-2013 plan book published by the good folks at NYCoRE and the Education for Liberation Network. Order your copy before June 30 to get the discount price of $14 plus shipping and handling ($13 for orders of or more).